IN THE STUDIO AND ELSEWHERE
COPYRIGHT
© 2011 Lori Ann LaBerge. All rights reserved. Unless noted, all artwork, photos and text are copyrighted by the artist. Images may not be reproduced, manipulated or used in any way without the written permission of the artist.
CONTACT
If you would like to send me a comment or have any questions, please e-mail me at lorilaberge@gmail.com. Thank you and I look forward to hearing from you.
CURRENT PROJECTS
I will be starting a new mixed media series based on the nomadic experience with a focus on rug motifs and migration. Sketches are in progress.
LINKS
Carolina Designer Craftsmen Guild
Studio Items I Love
Work and Play–Christmas Party
Nomadic Series Begins
"Southern Flight" and Mixed Media
Carolina Designer Craftsmen 2011
Show Packing and "Woodland Tango"
Architectural Salvage
Carolina Designer Craftsmen Show
Landscapes with Barns
Back to Small Landscapes
Exhibit Set-Up in Gallery
Show Preparation Part III - Packing
Audience Participation
Exhibition Booklet, Platform Building
N.C. Arts Incubator in Siler City
Show Preparation Part II
Show Preparation Part I
"Stacked" Completed, "Lakehouse" Juried In
"Stacked" Continued
Floor Runner "Stacked" in Progress
View Inspires "Sunset in Rose"
Exhibit Postcard and Tiffany
Mixed Media Rug Hooking
"Birches II" and Robert Frost
"Lakeside Completed, Weekend Off!
Road Trip Photo Inspiration
"Walking the Tracks" Completed
Inspiration on Cades Cove Trip
Walkthrough of Studio Tour
Studio Tour Exhibit at TRAC
More Finishing Work
Studio Tour Preparation Started
Hooking Done, A Week of Finishing
Mother's Day–Off the Beaten Path
Decorating with Hooked Art
A Week of Hooking and Painting
The Isabella Stewart Gardner Museum
Birches and My Stripe Obsession
Architectural Pieces Delivered
"Walking the Tracks" in progress
Blue Mountains in Spring
Georgia O'Keeffe on the Nightstand
A Scale Model of Future Exhibit
Texture: Combining Yarn and Wool
Using Photographs as Inspiration
Modern Rugs, Traditional Techniques
Fiber in the Family
Shuttle, Spindle & Dyepot Magazine






A SCALE MODEL OF FUTURE EXHIBIT AND
RHODODENDRON SKY COMPLETED
I spent some time this week working on planning my exhibition. First was a trip over to the gallery with a friend who was kind enough to help me measure out the space. We also had a wonderful lunch in town. The next step was to transfer the measurements to foam board with a 1" = 1' scale.
Then the foam board was cut to size and taped together to form the gallery walls.
I then went to the computer and adjusted photos of the pieces I've done so far to scale. The pieces were placed in the model to see how they would fit into the space. I like to leave about 18"-20" between pieces so they don't feel crowded and people can focus on each individual piece. The height will have the center of each piece approximately 57" from the floor. The short rectangular pedestal in the middle of the floor is for setting a rug piece on. Hopefully this piece will be completed in time, if not I will adjust my plans or just forgo sleep for a while.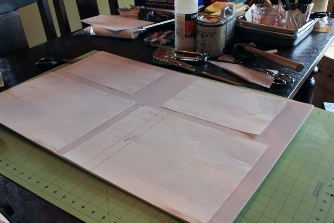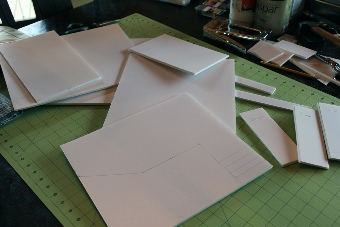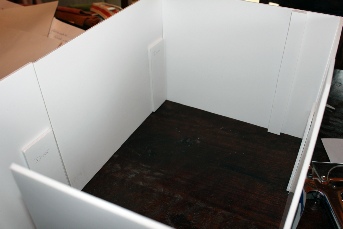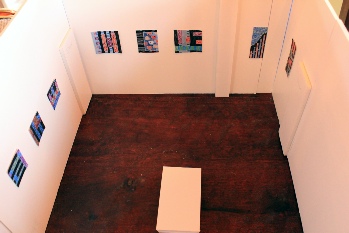 This process gave me a great idea of how many pieces I will need. I will most likely move things around as more pieces are created and am curious to see how new pieces will fit in and how the actual gallery set-up will compare with the model.
On another note, the piece I started earlier is finished and is titled "Rhododendron Sky". I am ordering a new type of frame and can't wait to see how it will look.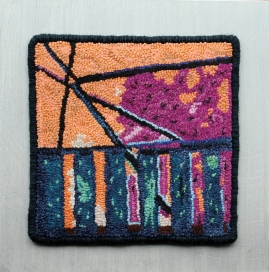 "Rhododendron Sky" Lori LaBerge 2011
Enjoy and have a great day!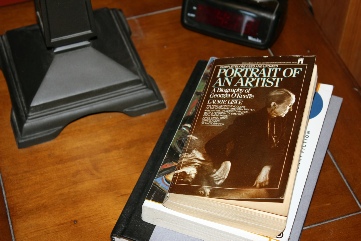 This week I'll be coming to the end of a book I wish would never end. Portrait of an Artist: A Biography of Georgia O'Keeffe by Laurie Lisle is one of the best biographies of an artist I have ever read. As I minored in Art History in college, I have read my share of biographies, but this one will leave its mark on me.
O'Keeffe was a complex individual who preferred the simple things in life. Lisle gives the reader an in depth look at how O'Keeffe lived her life and the effect Alfred Stieglitz, her husband and mentor, had on that life. A few quotes:
" I feel disgusted with it all and am glad I am disgusted." Upon putting away all work that was either done to please or influenced by others.
"I've been absolutely terrified every moment of my life and I've never let it keep me from doing a single thing I wanted to do."
"Nobody sees a flower really; it is so small. We haven't time, and to see takes time..."
Independent and with no fear of speaking her mind, Georgia O'Keeffe became a legend in the art world. She once told a reporter "I'm loved, but I suspect I'm hated in the same proportion."
Be inspired, find yourself a great biography to read and have a great day!



BLUE MOUNTAINS IN SPRING
There is something exciting about spring in the Blue Ridge Mountains. The farmlands are turning green and thoughts of soon to be seen color spark one's imagination. Yes, I officially have spring fever and worked on two new pieces this week.
"Blue Mountains in Spring" Lori LaBerge 2011
The above photo is of "Blue Mountains in Spring". I love the colors here and the birch trees really work with this piece. A wonderful place to view these trees is along the trails of the Moses Cone Park. Moses Cone was called the "Denim King" as his textile mills produced denim fabric. The home should not be missed if one visits the area along mile marker 294 of the Blue Ridge Parkway. There is also a craft/gift shop to visit with occasional artist demonstrations.
Below is "Spring's Arrival". Even though the rhododendrons are not in peak bloom until late April-June, I couldn't resist using the recently dyed hot pinks sitting on the studio shelf.
"Spring's Arrival" Lori LaBerge 2011
I'm finishing up the Georgia O'Keeffe biography I've been reading and next up is "A Mansion in the Mountains: The Story of Moses & Bertha Cone and Their Blowing Rock Manor" by Philip T. Noblitt.
Take some time to envision a beautiful spring season and have a great day!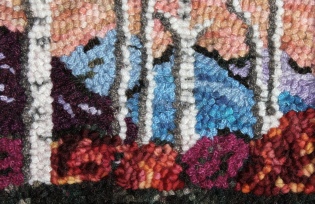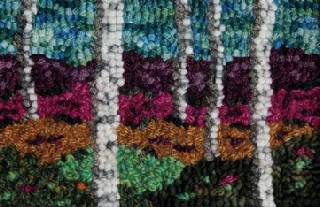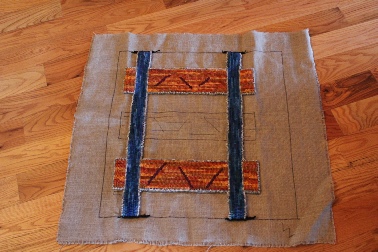 "Walking the Tracks" in progress Lori LaBerge 2011
There is something fascinating about trains. Spruce Pine, our current hometown, is known for trains and has an old depot loaded with character on downtown's Lower Street. We hear the train whistles frequently and the echo of them in the night has always been a relaxing, comforting sound.
I recently started work on a 24" X 24" piece entitled "Walking the Tracks". Part of a striped series of work, it evolved from a photo of local tracks taken earlier in the year.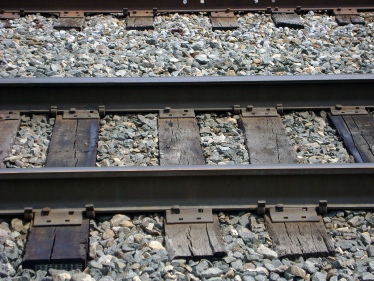 Growing up in Vermont, I remember my friends and I walking the tracks to school and running to see the trains when they came through. We flattened pennies on the rails and collected rocks from the tracks. The workers on the caboose would always wave to us and our arms would wave wildly back at them before we made our way home. Great memories!
Hold those special childhood memories close and have a great day!